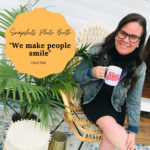 A Little Bit About Me | I have been married for 26 years to my soul mate William and we have 4 beautiful young adult children Emily, Troyer, Brodix and Ellen. I was a stay at home mother for 15 years and at some point there came a time when the kids were grown and I thought now what? So, I went back to college and earned a degree in Hotel Restaurant Management and began my career in the corporate world. Even though I loved what I was doing I wanted to be in charge of my own destiny so I decided to start my own business. I knew it would have to center around 2 things "People and Parties" and just like that Snapshots Photo Booth was created in 2013.
What Makes Us Unique | Vintage is our company style. We want to astetically enhance the venues we are at and our antique photo booths and 1977 VW Photo Bus do exactly that. They are the perfect blend of classic chic and modern digital equipment all in one. We are very accommodating. We know that every event is different. Our photo booths travel all over New York State including the Big Apple!
Our Vision | I truly believe that a photo booth is the perfect addition to any social event. I cannot tell you how excited I get when someone approaches me about our photo booth services. It literally feels like the first time every time. I cannot wait to get to know my clients, their families and their friends. I am looking to build a long term relationship with everyone, not just for that one event.
Thank you so much for visiting our website and I hope that I have given you some insight on who we are and what you can expect from us. We are trying to set the standard for photo booth service and we would love to be a part of your next event. Contact us today…we cannot wait to meet you!