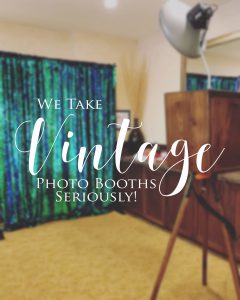 Snapshots Photo Bus and Booths offers open air styled booths.  This is a great choice for smaller venues that have trouble accommodating a traditional photo booth.
Made from timber right off our property it is a rustic, antique unit that sits upon 3 wooden tripod legs. This booth compliments any country, barn, winery or vintage style event. We traditionally bring along a backdrop of your choosing , but sometimes the venue provides a great background on its own.
They are the perfect combination of modern equipment with that old time photo booth appeal. Oliver is featured here, he is a triplet,  Will is identical in build only in a black walnut color. Harry is also identical in build with a barn gray color.
Contact us today to book one of our charming debonaire open air booths…